Order

Services for clients portfolio

Services of foreign companies
Settlement control
Other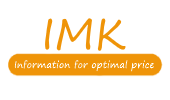 IMK/Membership
www.cr.lt without any limits
IMK report includes:

Full contact information;
Turnover, number of employees;
Number and dates of asset arrests;
Amount, dates and detailed information about courts, delays, negative public information facts of the company and is the company registered in UAB "Creditreform Lietuva" as a defendant in cases;
Number and dates of vehicles company owns;
Other.

Unlimited number of searches;
User is able to publish delays;
User is able to write comments;
User can order additional information for a lower price

➤

Balance sheet;
Profit (loss) statement;
Detailed information of the Register of assets arrest acts;
Detailed information of the Register of mortgages;
Real estate (combined information);
Shareholders;
Order of IMK service
➤
Unlimited amount of IMK reviews for 30 days just for EUR 60 (included VAT). Service is activated after payment is done. Below, You will find an example of the information which will be given for You. Also You will be able to order additional information for a better price and You can find it in section "Additional information" or by clicking links right in the IMK.
www.cr.lt without any limits:

Unlimited number of user names;
Unlimited number of searches;
Detailed search (by managers' name, surname, contact information and etc.);
Interactions between companies according to manager and contact information;
Main page with combined registration, negative, real estate and finance, contact and other important information about the company;
Connections.

Tag of essential information.
More information for free in IMK:

➤

Complete dynamic information about employees, turnover, profit and vehicles;
Detailed information about vehicles;
History of registration/unregistration (dates), unique numbers and amount of asset arrests;
Full available information about the courts (dates, claimant, type of case, decision, institution of court);
The fact if the company "owns/not owns" real estate;
Other.

Direct information from registers and other sources with even lower price:

➤

Balance sheet;
Profit (loss) statement;
Detailed information of the Register of assets arrest acts;
Detailed information of the Register of mortgages;
Real estate (combined and detail information);
Detail information of vehicles;
Shareholders;
Associated persons.

Monitoring service.
Additional services with lower prices:

Cr rating;
Credit reports about foreign companies;
Recovery service in Lithuania and foreign countries;
Legal services;
Marketing services;
Customer portfolio assessment;
Determination of customer portfolio credit limits.